Cycling is a great way to explore a new place and stay active while on vacation. If you're planning a trip to Havelock Island, Andaman and Nicobar Islands, India, renting a bicycle is an excellent way to get around and see the sights at your own pace.
Renting a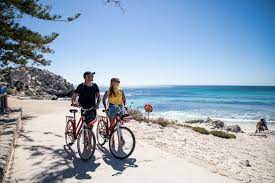 is easy and affordable, with many shops and vendors offering rentals throughout the island. You can rent a bicycle for a day, a week, or even longer, depending on your needs and preferences.
The bicycles available for rent are well-maintained and equipped with everything you need for a comfortable and safe ride, including helmets and locks. You can choose from a range of sizes and styles, including mountain bikes, road bikes, and hybrid bikes, depending on your preference and the type of terrain you plan to explore.
Cycling is a popular activity on Havelock Island, with many scenic routes and trails to explore. You can ride along the coastline and enjoy stunning views of the ocean, or venture into the interior and discover the island's lush forests and wildlife. You can also visit local markets, restaurants, and attractions on your bicycle, providing a unique and authentic way to experience the island's culture and lifestyle.
Overall, renting a bicycle on Havelock Island is a convenient, affordable, and eco-friendly way to explore the island and stay active while on vacation. Whether you're a solo traveler or with a group, renting a bicycle provides a fun and unique way to experience all that Havelock Island has to offer.
You can order this service on booking confirmation page.
Price
₹240 / Per Day / Per Guest